WORKPLAZE
A human resource management software with an on-cloud platform for SMEs. It supports all human resource tasks, administration, and management across three levels of users. Usable on smartphones. Support employees profiles, payroll, taxation, welfare and other important tasks.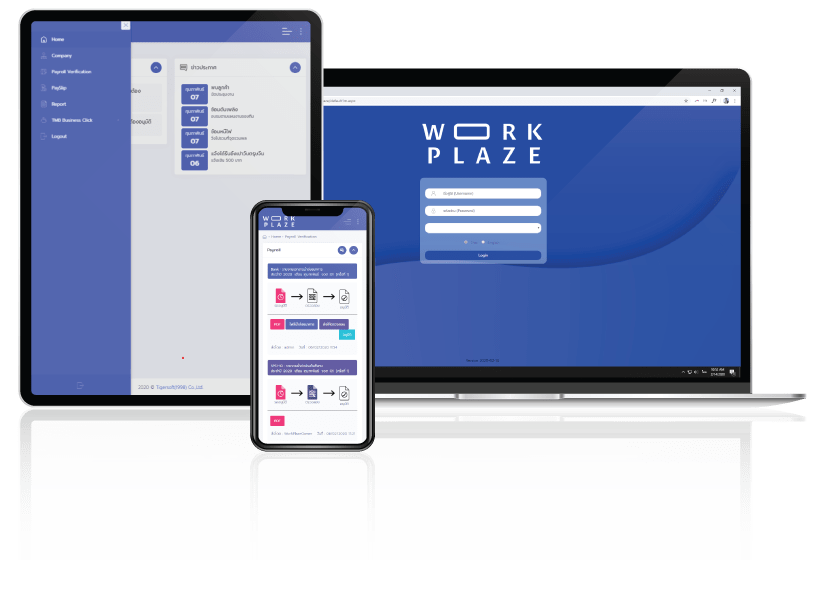 ARE YOU EXPERIENCING THESE PROBLEMS?
Frequent Data Loss
Accidental loss due to data amount
Lack of Servers and Tools
Unsuitable system for usage and storage
Lack of IT Personnel
No one to look after and verify the data
Difficulties in Handling Documents
Complicate document processing
Overwhelming Documents
Wasteful uses of papers for documents
Storing Confidential Data
In need of a reliable storage for important data
Hackers
Unauthorized access through networks
System in Crisis
Data compromised by virus or intrusion
WORKPLAZE

OFFERS YOU THE FOLLOWINGS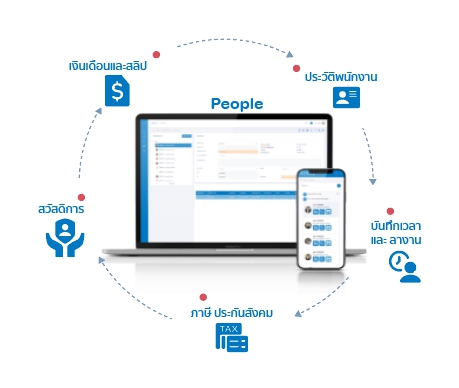 Assist in keeping detailed employee information and allowing for quick searches.
Salary, OT, shift pay, food expenses, or any other type of income can be perfectly structured with little errors.
Employee time calculation is extensive; it is fast, accurate, and time-saving.
Maintain a detailed profile for each employee while also allowing time attendance and payroll setup via a menu.
Employee information from the Personal system is automatically linked to the Time Attendance and Payroll systems.
Use an Excel file to import the data of new employees.
Easily verify those who are currently working or have resigned using a single display screen.
Set a password for each employee and the time attendance device separately, with up to 20 characters of alphabets and numbers allowed.
Create up to six management structure levels, such as division, department, and staff level, while also having the ability to manually set the names.
Assign names to divisions, departments, positions, and others in either Thai or English.
Allow for the use of JPG, BMP, or GIF file extensions for employee portraits.
Produce a comprehensive report for submission to the Social Security Office (Sor Por Sor. 1-03, Sor Por Sor. 1-03/1, Sor Por Sor. 6-09).
Request the report and save it as an Excel, Word, or PDF document.
Navigate through the simple menu to calculate an employee's salary, tax, social security pay, provident fund, OT pay, shift pay, and food expense.
Set up to five salary installments, plus one additional extra installment.
Choose a tax calculation method for each employee or the company, such as withheld, average, constant, or percentage.
Prorate the employee's salary if there is an increment, or if the employee enrolls and then leaves between salary payment installments.
Quickly and easily import the list of additions and deductions using the .csv file (Excel).
Create and deliver an acceptable payroll payment text file for any bank.
Create a formatted report for submission to the Social Security Office, the Revenue Department, and the Provident Fund.
Request a payroll report, along with a payroll statement (slip), for verification, and export the information as an Excel or PDF file.
Determine whether a payroll report's display content is addition or deduction.
Submit documents, such as the payroll report, the Revenue Department report, and the Social Security Office report, for executive review (Automate Owner Audit) and approval through the system.
Create a new shift by defining its time rules, such as clock-in, late arrival, clock-out, and lunchtime.
Set the rate of shift pay and food expenses for each shift.
Allow for pre-work, post-work, or lunch OT requests.
Freely name different types of leave and specify the annual leave allowance for each type.
Extend the holiday leave allowance quickly and easily by importing the data via .csv file (Excel).
Change the employee's diligence allowance to a fixed or tier-based amount.
Receive real-time time data from Tigersoft's time attendance device, which includes a built-in face or finger scan, or from a text file for devices from other companies.
Navigate the menu with ease; calculate absence, leave, late arrival, early work leave, and OTs from a single screen and receive instant results for further payroll processing.
Import shift timesheets quickly and easily using a.csv file (Excel).
Request the report and save it as an Excel, Word, or PDF document.
The Online Payroll Software with Cost-Effective Solution for Growing Businesses
Pricing that scales with your business.