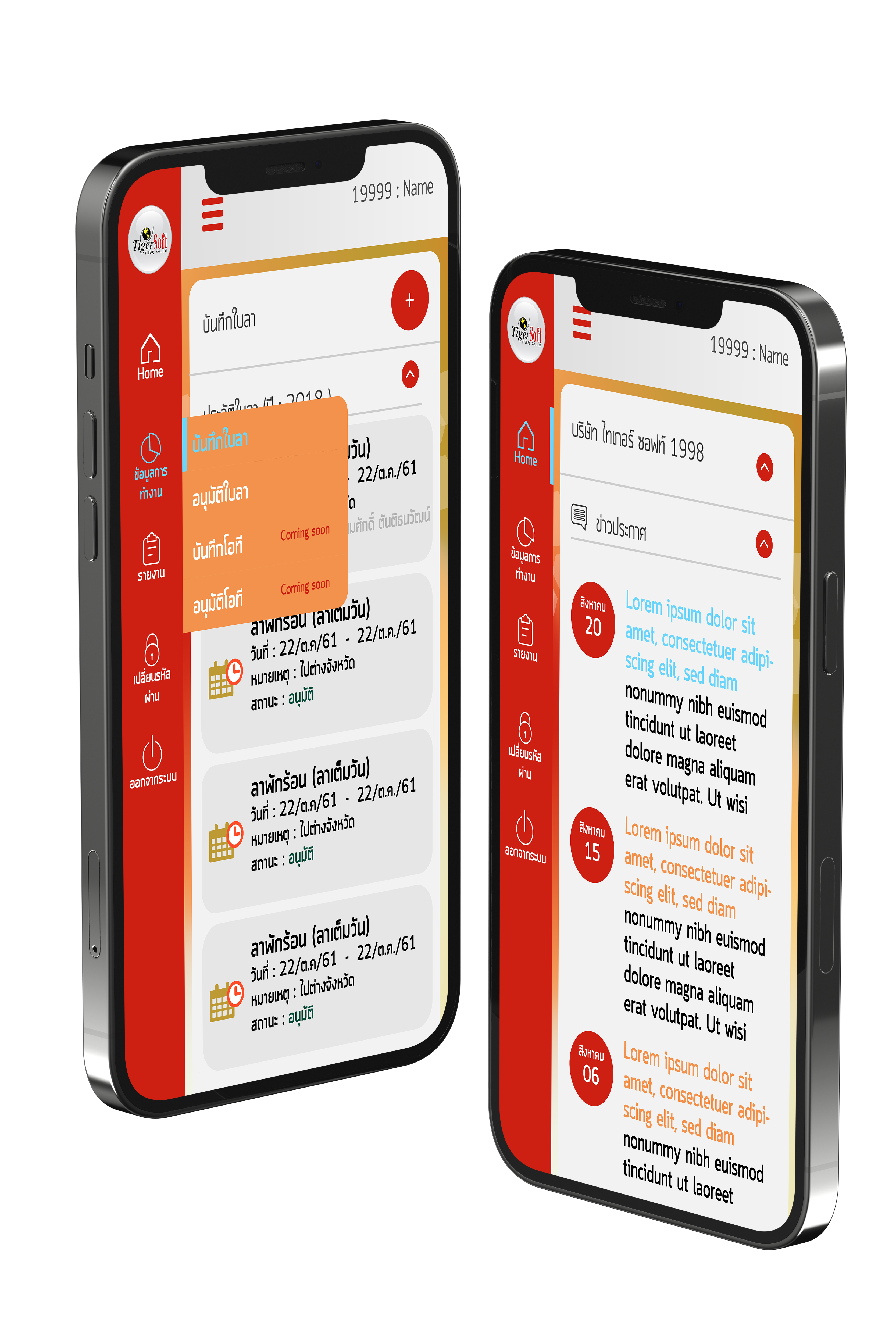 HR Software Human Resources Management Program | Tiger eHR
HR Software, an effective
human resource management rogram system.
The key helper for growing business Offered On-Premise | On Cloud
HR Software (Human Resource Management) Tiger eHR's HR Software features a specially designed human resource management software. It's able to respond to every task in the personnel management program, covering nearly all duties of the personnel department ranging from medium to larger firms, simply have access to the internet, and it will work.
Tiger eHR's HR Software caters to all requirements, including Employee Information Systems (EIS), Payroll systems, Time and Attendance systems (TNA) and Automated Time Off, Automated Leave Management Systems (PTO), ensuring reliable results. The HRM application is the most comprehensive HR Software your firm needs for the IRS, Social Security, Compensation Fund, and Department of Labor.
HR Software On Cloud
Cloud Server HR Software Convenient Personnel Management Program works anywhere, its fast access system enables easy access to the HR Software via Mobile Application anywhere at any time, meeting the needs of digital businesses.
 
Cloud Server HR Software Convenient Personnel Management Program operates everywhere; its rapid access mechanism allows simple access to the HR Software through our Mobile Application from any location, meeting the needs of digital businesses today.
Easy Employee Management
An essential HR Software that will make managing employee information easy. Reduce complicated document workflow with HRM program that helps manage every document. Every need is professional, accurate and as accurate as possible.
 
Easy Employee Management is an HR Software that is critical for managing employee information in a quick and easy manner, significantly reducing the quantity of complex documents found in the workflow. As a result, the tremendous demand for digital businesses today is met.
All-in-one HR Software
An HR Software that includes HR management software functions that cover all work and a wide range of HR demands in a single package, improving the personnel department's efficiency by a great leap.
HR Software Features That Fit Your Business!
The HR Software is built with innovation and technology to be a highly effective HR Software, it may deliver management of your employees information and easily adjust the HRM program to fit the needs of all types of businesses.
e Personal
e Personal management software is a fully automated HR software used in assisting administration in businesses to gain an understanding of employee personal information, from education to salary information, to personal accomplishments, employment contracts, background checks, disciplinary actions and more. It can input data into the HRM system without any employees manually operating the system, assisting in increasing the efficiency of people management in a comfortable manner.
e Time Attendance
e Time Attendance is an HR software used for regulating employees' time management. This people management tool gathers data on employee attendance, their work leave, absences, late arrival, and work schedule. In addition to setting other Over Time (OT) variables that may be examined via the Online system and managed as precise statistics, it has a Check-in system that delivers the deployment of a geofencing (GPS) inspection system when using mobile checkout, enabling HR to easily assess individual employees' performance.
e Payroll
e Payroll is an HR Software used to process employee salaries and payments. It's an effective human resource application that calculates salaries in great detail, allowing for multiple calculations at a time for every type of business, such as daily wages, hourly wages, revenue records, deductibles, overtime, and withholding tax calculations, in order to record a thorough overview of compensation and other expenses.

e Training
e Training is an HR software that surpasses information management. We are devoted to supporting your employees in developing and reaching their potential. The HR department may keep the training history of employees both within and outside the firm when using this HRM program system, in order to improve the effectiveness of each employee training course, as well as to assess and view work in each employee training course.
Web Time Online
Web Time Online is an HR software that was created to reduce the use of paper and the time-consuming processes seen in traditional leave time. Using Web Time Online, Employees may submit leave from anywhere using this HR Software. Supervisors can also authorize leave online or by mobile at any time. This convenient HR Software may also keep a thorough record of all leave details, erasing the idea of more paperwork to worry about.
makes managing your HR operations easier than ever; it helps save time and keep your business compliant.
Payroll
Payroll in our HR Software handles everything from paying employees to keeping track of hours worked, calculating wages, withholding tax deductions, paying government and employment taxes.
Human Resources
The Human Resources program in our HR Software includes an integrated system for efficiently managing employee time, tracking all paperwork, and engaging with workers in a timely manner.
Web Time Online
Leave Management in our HR Software manages the application, approval, and monitoring of employee leave in a company. It automatically arranges and handles all time off requests, making it simple for employers to manage all approvals of requests and employee tracking.